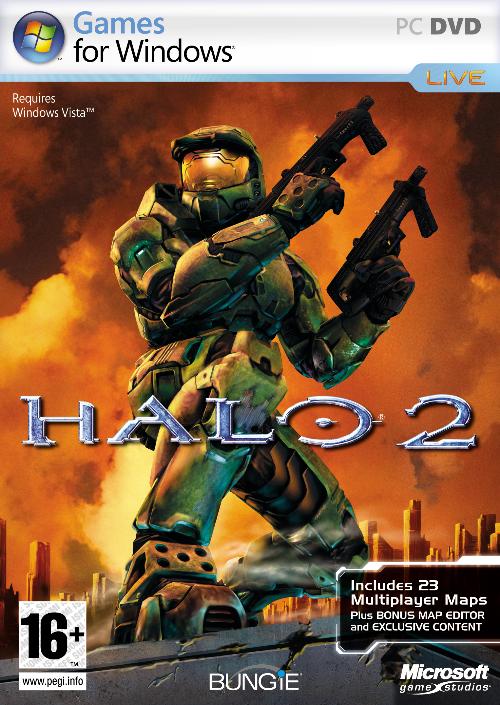 ▄▄▀▀▀▄
     ▄▄▀▀ ▄▄█  ▀▀▀▄▄▄▄
    █ ▄▄█████▄███▄▄▄▄ ▀█▄▄▄▄▄                   ▄█▀▀▀█    ▄▄▄
    ▀▄▄ ▀███▀ ▀▀██████▄ ▀▀▀▀▀▀▀▀█▄█▀▀▀▀▀▀▀▀▀▀▀██▀ ▄▀ █▄▄█▀ ▄ ▀▀▀▀▄▄
       █ ███    ▄█████▀ ▀▀▀████ ▀█ ▄█████████▄  ▄███▄ ▀ ▄▄██▄▀██▄▄ ▀▄
       █ ███  ▄██▀▀▀▀ ▄▀ ▄██▀███   ▀█▀   ▄██▀ ▄█▀ ▀███▄  ███   ▀███▄ █
       █ ███▄██▄  ▄▄██▀ ███ ▄ ███ ▀▄▄  ▄██▀ ▄██▄ ▀▄ ▀███▄███  ▄██▀▀ ▄▀
       █ ███▀████▄  ██ ███▀    ███ ▀ ▄██▀   ▄████▄ ▀ ▄█▀ ███▀██▄  ▄▀

 The entertainment phenomenon that conquered the digital universe is once again
 out to save the planet as the award-winning, best-selling Halo 2 is coming to
 the Windows Vista platform. Optimized for the advanced gaming features in
 Windows Vista, Halo 2 promises to revolutionize the first-person shooter
 experience for Windows gamers, as it did for consoles. With its classic story,
 enhanced visual presentation, multiplayer excitement and all-new Map Editor,
 Halo 2 for Windows Vista offers more game customization and new content than
 ever before.
 Epic Narrative: The saga continues with Halo 2 the international award-winning
 sequel to the highly successful and critically acclaimed Halo: Combat Evolved.
 In this sequel, the battle comes to Earth, and Master Chief, a genetically
 enhanced super soldier, is the only thing standing between the relentless alien
 Covenant and the destruction of all humankind.
 Exciting Single-Player Gameplay: Experience first hand the epic struggle
 between Master Chief and the Covenant armada. Brandish dual-wield weapons
 Covenant arms and pilot human and non-human vehicles and aircraft to battle
 intelligent AI alien enemies.
 Unmatched Online Gaming: Halo 2 for Windows Vista will tap into the power of
 Live Anywhere, a service similar to Xbox Live, to deliver online matchmaking
 for PC gamers. The service will enable Windows Vista gamers all over the globe
 to connect via their PCs and play on an innovative and competitive online forum.
 New Multiplayer Map Editor: The game will also feature the all-new new Map
 Editor, guaranteeing additional new, fan-generated content in the future.
 The Halo 2 community can now tap their endless creative potential to develop
 an unlimited number of user-created multiplayer levels.
 Complete Community Freedom: Halo 2 for Windows Vista offers gamers the freedom
 to host their own dedicated servers for maximum multiplayer action. Superior
 Presentation and Cinematic Excellence: Bring the vast, imaginative world of
 Halo 2 to life on the Windows Vista platform through higher-resolution
 textures and improved lighting effects. Experience the unmatched cinematic
 quality of Halo 2 through the power of Windows Vista.
 Unprecedented Pedigree: The Halo franchise is one of the best selling and
 monumental entertainment experiences in history with more than 14.5 million
 units sold worldwide, more than 18 Game-of-the-Year awards, 750 million hours
 and 500 million matches logged over Xbox Live. Halo 2 was also one of the most
 successful entertainment launches of all time ? including books, films, graphic
 novels, games and music. Halo 2 for Windows Vista brings this incredible
 experience to Windows Vista gamers everywhere.
 Repack Notes
 ~~~~~~~~~~~~
 We want to thanks Aeris for their fine proper. Game stays uncracked for weeks and
 suddenly a proper using the exact same methods as our appears? Oh and thanks for
 porting it to another compiler! Regardless of all their fine work, their crack
 doesnt even work.
 Anyways, thanks for raping and abusing our work, we really enjoyed it! Here is
 our repack with a working startup.exe in the installer. We're also sorry for the
 long delay, we wanted to make a small patch instead of a full repack but in the
 end it wasnt possible.
 Install Notes
 ~~~~~~~~~~~~~
 1. Mount ISO / Insert disc
 2. Run Autorun / Startup.exe
 3. Select "Customize game install"
 4. Enter installation path ("C:Program FilesMicrosoft GamesHalo 2" by default)
 5. Select "Full install only, do not start"
 6. When the game asks for activation, skip this step
 7. Continue / Finish installation
 8. Optionally apply the update patch #1 (if you feel offended by accidental nudity )
 9. Copy the provided crack files (startup.exe/MF.dll) to your installation folder
    (the one chosen in step 4)
 10. Enjoy !
 Note: If you want to play the game without getting the annyoing activation nag,
       make sure you use the shortcut on the startmenu or run halo2.exe directly.
       If you run it from the autorun of the disc you will still get the nag.
 Razor 1911 Greetings
 ~~~~~~~~~~~~~~~~~~~~~~
 To the honorable competition.


                                      /
                        Razor 1911   /__   Since 1985
                                    /  /
                                   /__/__

              SUPPORT THE COMPANIES THAT PRODUCE QUALITY SOFTWARE!
     IF YOU ENJOYED THIS PRODUCT, BUY IT!  SOFTWARE AUTHORS DESERVE SUPPORT!!

ed2k:
Halo.2.Repack.Razor1911.nfo
[6.2 Kb] [
Stats
]
ed2k:
Halo.2.Repack-Razor1911.iso
[3.83 Gb] [
Stats
]
[ Add all 2 links to your ed2k client ]