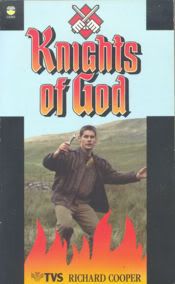 http://www.action-tv.org.uk/guides/knightsofgod.htm
http://www.imdb.com/title/tt0161158/
There was no release on VHS or DVD. These files were capped by 'Uncle Mort' in 2003 from VHS (original transmission).
--- File Information ---Â  Â  Â  Â  Â  Â  Â  Â  Â  Â  Â  Â  Â  Â  Â  Â  Â  Â  Â  Â  Â  Â  Â  Â  Â  Â  Â  Â 
File Name: Knights of God XX.avi                       
File Size (in bytes):Â c. 270,000,000Â  Â  Â  Â  Â  Â  Â  Â  Â 
                                                                     
--- Video Information ---Â  Â  Â  Â  Â  Â  Â  Â  Â  Â  Â  Â  Â  Â  Â  Â  Â  Â  Â  Â  Â  Â  Â  Â  Â  Â  Â 
Video Codec Type:  DX50/divx             
Video Codec Name:Â  DivX 5.0Â  Â  Â  Â  Â  Â  Â 
Duration :Â  c. 00:26:00Â  Â  Â  Â  Â  Â  Â 
Frame Count:Â c. 40000Â  Â  Â  Â  Â  Â 
Frame Width (pixels):Â  352Â  Â  Â  Â  Â  Â  Â  Â  Â 
Frame Height (pixels):Â 288Â  Â  Â  Â  Â  Â  Â  Â  Â 
Display Aspect Ratio ("DAR"): 1.222Â  Â  Â  Â  Â  Â  Â  Â  Â  Â 
Frames Per Second:Â  25.0Â  Â  Â  Â  Â  Â  Â  Â  Â  Â 
Video Bitrate (kbps):Â  c. 1200Â  Â  Â  Â  Â  Â  Â  Â 
                                                                             
--- Audio Information ---Â  Â  Â  Â  Â  Â  Â  Â  Â  Â  Â  Â  Â  Â  Â  Â  Â  Â  Â  Â  Â  Â  Â  Â  Â  Â  Â 
Audio Codec: 0x0055(MP3, ISO) MPEG-1 Layer 3Â  Â  Â  Â  Â  Â  Â  Â  Â 
Audio Sample Rate (Hz):Â  44100Â  Â  Â  Â  Â  Â 
Audio Bitrate(kbps):Â  160Â  Â  Â  Â  Â  Â  Â  Â 
Audio Channel Count (e.g. "2" for stereo):Â  Â  Â  2Â  Â  Â  Â  Â 
--- Description ---
Set in a civil war devastated Britain in the year 2020 this big budget and ambitious adventure epic was actually filmed in 1985, but was shelved for other a year due to its pessimistic and grim tone. ITV bosses felt that the scheduled Sunday tea time slot could potentially upset a family audience, but the critics took a different tone - the programme just wasn't very good.
Britian has been ravaged by a non-nuclear war, with in the poorer people of the North opposed to the rich in the South. After the war is finished out of the ashes arises a new regime known as the Knights of God who rule the country ruthlessly and with absolute control. London has been demolished and Winchester is now the capital of the country. But in Wales and Yorkshire a growing resistance movement is ready to take on the Knights of God.
The series began when Controller of Programmes at TVS, Anna Holme, challenged the writer Richard Cooper to come up with a tough story for children, but featuring primarily an adult cast.
John Dale, who had previously worked on the Saturday morning children's show No.73, was appointed producer to oversee the mammoth 20 week production schedule.
Casting was a shared decision between the directors and producer, with a cast of over 50 characters - cramming in such thespian luminaries such as Gareth Thomas, Patrick Troughton, John Woodvine, Don Henderson, Nigel Stock, Tenniel Evans and Frank Middlemass.
ed2k:
Knights_Of_God-Episode_01.avi
[256.88 Mb] [
Stats
]
ed2k:
Knights_Of_God-Episode_02.avi
[249.63 Mb] [
Stats
]
ed2k:
Knights_Of_God-Episode_03.avi
[225.16 Mb] [
Stats
]
ed2k:
Knights_Of_God-Episode_04.avi
[254.45 Mb] [
Stats
]
ed2k:
Knights_Of_God-Episode_05.avi
[245.49 Mb] [
Stats
]
ed2k:
Knights_Of_God-Episode_06.avi
[245.96 Mb] [
Stats
]
ed2k:
Knights_Of_God-Episode_07.avi
[230.86 Mb] [
Stats
]
ed2k:
Knights_Of_God-Episode_08.avi
[255.98 Mb] [
Stats
]
ed2k:
Knights_Of_God-Episode_09.avi
[258.73 Mb] [
Stats
]
ed2k:
Knights_Of_God-Episode_10.avi
[255.03 Mb] [
Stats
]
ed2k:
Knights_Of_God-Episode_11.avi
[230.66 Mb] [
Stats
]
ed2k:
Knights_Of_God-Episode_12.avi
[253.46 Mb] [
Stats
]
ed2k:
Knights_Of_God_Episode_13.avi
[257.99 Mb] [
Stats
]
[ Add all 13 links to your ed2k client ]